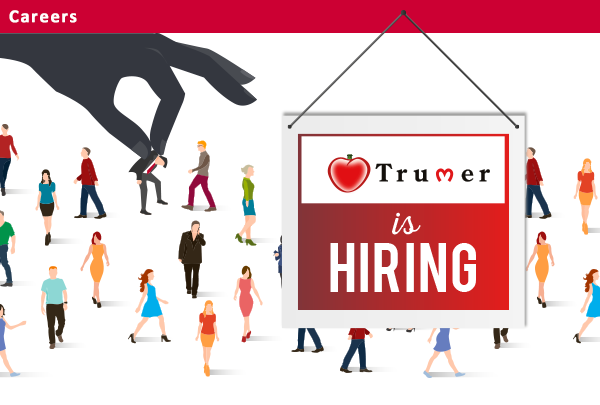 At Trumer, we provide a working environment that encourages staff empowerment which gives you the opportunity to develop and realise your full potential.
We are currently in search of dynamic, enthusiastic and innovative individuals with great team spirit to join us and be a part of our ever growing team.
WHY SHOULD YOU JOIN US?
For every merchant or member recruited, you will be handsomely rewarded. Whenever these merchants and members buy or sell, it will bring revenue to you and your team. Apart from that, you will get to enjoy job satisfaction.
HOW TO APPLY?
Interested candidates are invited to send in their updated CV via email to hr@trumerint.com or via post to the following address:
TRUMER INTERNATIONAL BERHAD
Human Resource Department
16-2, Jalan SS 19/1G
47500 Subang Jaya
Selangor Darul Ehsan
(Fax No. 03-56381577)
Only short-listed candidates will be notified and invited to attend an interview. Rest assure, all applications are kept Private and Confidential.
1. Business Partners

Job Scope

Recruit Merchants or Retail Outlets to take part in the Merchant Discount Program, as per our Current TrumerX Programs listed on www.trumerx.com.
List and maintain product details that are sold by merchants on www.trumerx.com.
Follow up with merchants on the buying and selling activity of their products and services listed on www.trumerx.com.
Comprehensive training will be provided.

Requirements

Comfortable with the flexibility of being self-employed (with no capital outlay).
Possess a large network of contacts and is able to 'capitalise' them accordingly.
Able to work anywhere and anytime, at your convenience.
The opportunity to be your own boss, as our Business Partner.

Skills Required

Must possess own mobile device such as smart phone, notebook or laptop and wireless broadband.
Must be 18 years of age and above, male or female.
Able to converse in English, Bahasa Malaysia or Chinese.
Good interpersonal and communication skills.
Self-motivated and a goal oriented team player.
Resourceful and able to work independently.
Must possess own transport.

Location

Wisma Dicor, Jalan SS 17/1A, 47500 Subang Jaya, Selangor.
OR
Preferred office location, nationwide (Indicate your preferred location and postal code in order to service the merchants that has been recruited by you).

Back to Top
2. Business Development cum Assistant Manager

Job Scope

Recruit Merchants or Retail outlets to take part in our TrumerX Programs listed on www.trumerx.com.
List and maintain product details that are sold by merchants on www.trumerx.com.
Follow up with merchants on the buying and selling activity of their products and services listed on www.trumerx.com.
Follow up with Business Partners on their progress and so on.
Comprehensive training will be provided.

Skills Required

Must have at least a Diploma or a Degree or anything of its equivalent.
Must possess own mobile device such as a smart phone.
Able to converse in English, Bahasa Malaysia or Chinese.
Self-motivated and a goal oriented team player.
Must possess own transport.
Strong interpersonal skills and able to work as a team with Business Partners.

Location

Wisma Dicor, Jalan SS 17/1A, 47500 Subang Jaya, Selangor.

Back to Top
3. Sales Executives With Home Office

Job Scope

Recruit Merchants or Retail Outlets to take part in the Merchant Discount Program, as per our Current TrumerX Programs listed on www.trumerx.com.
List and maintain product details that are sold by merchants on www.trumerx.com.
Follow up with merchants on the buying and selling activity of their products and services listed on www.trumerx.com.
Comprehensive training will be provided.

Requirements

Comfortable with the flexibility of being self-employed (with no capital outlay).
Possess a large network of contacts and is able to 'capitalise' them accordingly.

Skills Required

Must possess a minimum SPM/O levels qualification.
Must possess own mobile device such as a smart phone.
Candidate must be between 21 to 45 years of age, male or female.
Able to converse in English, Bahasa Malaysia or Chinese.
Self-motivated and a goal oriented team player.
Must possess own transport.

Location

(Take Home Revenue can range from RM1,500 to over RM10,000)

Back to Top
4. Purchasing Officer

Job Scope

Responsible for sourcing new products that is highly demand driven by buyers on TrumerX.
List and maintain product details that are purchased from merchants on www.trumerx.com.
Recruit Merchants or Retail Outlets to take part in the Merchant Discount Program, as per our Current TrumerX Programs listed on www.trumerx.com.
Follow up with merchants on the buying and selling activity of their products and services listed on www.trumerx.com.
Follow up with Business Partners on their progress and so on.

Skills Required

Possess at least three (3) years working experience in the related field.
Must possess a minimum SPM/O levels qualification.
Have basic experience and knowledge when it comes to purchasing merchandise for the TrumerX website.
Resourceful and self-motivated, able to work under minimum supervision and good at multitasking.
Able to converse in English, Bahasa Malaysia or Chinese.
Must possess own mobile device such as a smart phone.
Required basic skill(s): MS Office Excel or Word.
Candidate must be between 21 to 45 years of age, male or female.
Must possess own transport.
Strong interpersonal skills and able to work as a team with Business Partners.

Location

Wisma Dicor, Jalan SS 17/1A, 47500 Subang Jaya, Selangor.

(Basic salary starts from RM1,500 onwards. We can always discuss on a better remuneration package for you. Performance Orientated Rewards will also be granted to the best staff.)

Back to Top
5. Account & Admin Executive

Job Scope

Able to handle full sets of accounts.
Be in charge of daily accounting duties.
Take responsibility for other ad-hoc duties, as and when required.

Requirements

Possess a diploma in Accounting or any other major of its equivalent.
Must be computer literate.
Good in co-ordinating, able to prioritise and work well under pressure.
Able to work independently with minimum supervision.
Consistent in meeting deadlines.
Fresh graduates are encouraged to apply.
Open to all Malaysian citizens.

Location

Jalan SS 19/1G, 47500 Subang Jaya, Selangor.

Back to Top
6. Admin Assistant

Job Scope

Responsible for all incoming phone calls.
In charge of office Admin duties including handling of Incoming and Outgoing mails.
Assist in data entry and filing of documents.
Help out with ad-hoc duties as assigned from time to time.

Requirements

Must be a Malaysian citizen with a pleasant personality.
Possess an SPM qualification or anything of its equivalent.
Have to be computer literate.
Fluent in English and Bahasa Melayu.
Have at least 2-3 years working experience.

Location

Jalan SS 19/1G, 47500 Subang Jaya, Selangor.

Back to Top
7. Logistic Executive

Job Scope

In charge of monitoring and tracking delivery of placed orders.
Assist in sourcing for price quotations and other ad-hoc duties, as and when required.

Requirements

Possess an SPM qualification or anything of its equivalent.
Have to be computer literate.
Good in co-ordinating, able to prioritise and work well under pressure.
Able to work independently with minimum supervision.
Being familiar with areas in Kuala Lumpur and the Klang Valley is an added advantage.

Location

Jalan SS 19/1G, 47500 Subang Jaya, Selangor.
Wisma Dicor, Jalan SS 17/1A, 47500 Subang Jaya, Selangor.

Back to Top
8. Retail Promoters or Assistants

Job Descriptions

If you want to develop a rewarding and high paying job in retail sales.
If you are passionate about demonstrating or promoting the use of TrumerPay, a mobile payment system.
If you have a keen interest in cashless payment systems.

Job Scope

Offer product demonstration or support to walk-in customers or product enquiry to customers over the phone.
Promote and demonstrate the company's products on site
Provide assistance to customers to complete payment.
Maintain the brand and store's overall professional presentation.

Requirements

You must possess a minimum academic qualification in SPM / STPM / "O" Level.
Experience not required. Training will be provided.
You are a people person and customer service is what you enjoy doing.
You are a dynamic and sales-driven individual with excellent communication skills.
Working days: 5 or 6 days with rotating shifts

Location

Salary package: Basic salary + commission + benefits (Salary will commensurate with your working experience)

Back to Top
9. Sales Executive

Job Scope

Recruit merchants and members to be part of Trumer International Berhad.
Assist in executing all sales and promotional activities to ensure all sales targets are met.
Follow up with merchants on their trading activities and provide support to ease business flow.
Comprehensive training will be provided.

Requirements

Candidate must possess at least SPM or equivalent.
Fluent in English, BM or Mandarin.
Self-motivated, goal oriented team player.
Excellent interpersonal skills.
Must possess own transport.
At least 1 Year(s) of working experience in the related field is required for this position.
Computer literate: Microsoft Office.
Willing to travel.

Location

Wisma Dicor, Jalan SS 17/1A, 47500 Subang Jaya, Selangor, Malaysia or any locations as per required.

Back to Top
10. Sales Coordinator

Job Scope

Provide merchant and member support to ensure demands are satisfied.
Coordinate and monitor sales personnel's and promoter's schedules.
In charge of monitoring account managing performance.

Requirements

Candidate must possess at least SPM or equivalent.
Fluent in English, BM or Mandarin.
Able to lead and work well under pressure.
Self-motivated, goal oriented team player.
Excellent interpersonal skills.
Must possess own transport.
Computer literate: Microsoft Office.

Working Hours

Office hours: 10am – 5.30pm
On standby: 5.30pm – 10pm (work from any desired location)

Location

Wisma Dicor, Jalan SS 17/1A, 47500 Subang Jaya, Selangor, Malaysia or work from home.

Back to Top
11. Part-Timer - In Assembiling of Electronic Equipment Such As Micro Current Pulser

Job Scope

Assembling of electronic components onto Circuit Board;
Assembling and make required connections and test the complete equipment such as micro current pulser; and
Assist in ad-hoc duties assigned from time to time

Requirements

Preferably with electronics background
Good and precise in soldering components onto circuit boards
Familiar with assembly of switches and meters onto circuit boards using plastic enclosures

Remunerations

PIECE RATED i.e. paid by number of units done; or
HOURLY RATED i.e. paid by number of hours of work

Location

Jalan SS 19/1G, Subang Jaya, Selangor, Malaysia

Back to Top
12. Part-Timer - Laboratory Assistants

Job Scope

Water distillation;
Monitoring Electrolysis Process:
Checking on quality of finished product and relevant packaging process;
Assist in ad-hoc duties assigned from time to time

Requirements

Preferably with laboratory works background;
Proficient in filtration process.
Familiar with water distillation and/or electrolysis process.

Remunerations

HOURLY RATED i.e. paid by number of hours of work

Location

Jalan SS 17/1A, Wisma Dicor, Subang Jaya, Selangor Darul Ehsan

Back to Top
13. Personnels required for our Holistic Reversal Program:
A. Sales Promoters/Assistants
B. Sales Executives/Assistants
C. Sales Coordinators
D. Business Partners
E. Sales Admin/Assistants
F. Accounts/Admin/HR Personnels
G. Despatch Clerks

Job Description

To introduce NCS as a holistic reversal against the pandemic.
To introduce to consumers, retailers, business units, health providers and all man, woman and children alike.

Job Scope

Provide promoter's functions such as promoting and demonstrating the company's products esp, NCS to one and all.
Recruit merchants and members to use and reorder these products.
Recruit Merchants or Retail/Food Outlets to take part in distributing our NCS.
Deliver the products as and when required.
Supporting functions such as Inventory and, Quality Control, Administration and Accounting.

Requirements

Possess a large network of contacts and is able to 'capitalise' them accordingly
Able to lead and work well under pressure.
Self-motivated, goal oriented team player.
Excellent interpersonal skills.
You are a dynamic and sales-driven individual with excellent communication skills.

Skills Required

Fluent in English, BM, Mandarin or Tamil.
Must Possess own transport.
Promote and demonstrate company's products on site.
Experience not required. Training will be provided.
Meet any requirement as per the job scope above.

Location

Trumer Holistic And Rehabilitation Centre Sdn Bhd, 16-1 Jalan SS 19/1G, 47500 Subang Jaya, Selangor Darul Ehsan

Back to Top
14. Despatch cum Admin Clerks/Operations

Job Scope

Despatch and assist in general administrative works
Despatch and assist in operation duties

Requirements

Malaysian with SPM or equivalent
With own motorbike, familiar in KL and Selangor areas
Age 18 to 35 years old
Pleasant personalities
24 Hours Operations. Full Time Job

Location

Trumer Holistic And Rehabilitation Centre Sdn Bhd, 16-1 Jalan SS 19/1G, 47500 Subang Jaya, Selangor Darul Ehsan

Remunerations

24 Hours Operations. Full Time Job
Paid by high hourly rate. i.e. number of hours of worked

Back to Top